As of this writing, there's still scant little we know for certain at the top of the ticket. Since late-yesterday, the Electoral College count has been staying put – depending on which source you follow – at Joseph R. Biden Jr., 253 or 264 and Donald J. Trump, 214.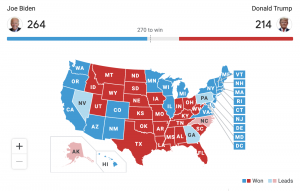 The political nerd in me has been refreshing pages on my phone, iPad, and laptop at a pretty good clip since 8:00 p.m. on Tuesday. From mayoral races to ballot initiatives to the White House, all of this is consequential. I care deeply about the process and the people in it. But it's not everything.
I once heard it said of evangelicals that they (as if evangelicals are a monolith) view the next election to be either their salvation or their demise. While functionally there are exceptions – we see it in our social media timelines – the majority of gospel-saturated believers do not view elections this way.
As citizens of a Third Kingdom, indeed we have a very different lens when viewing the electoral and political processes. We have a different manner in which we conduct ourselves:
Seeking the best/welfare/shalom for the cities we're called to (Jer. 29:7). This passage of course applied specifically to Old Testament Israel; however, it certainly is part of the impetus of New Testament missiology.
Demonstrating Christlikeness in the Public Square. In the ESV, the heading for Romans 12 verses 9 and 10 reads, "Marks of the True Christian." I deeply love this passage. It reads, "Let love be genuine. Abhor what is evil; hold fast to what is good. Love one another with brotherly affection. Outdo one another in showing honor." (Emphasis mine)
Being wise in this cultural moment. We've often read about the men of Issachar. The Scriptures are full of lists and genealogies, and they're fascinating. Of the men of Issachar it was said in 1 Chronicles 12:32, "…men who had understanding of the times, to know what Israel ought to do, 200 chiefs, and all their kinsmen under their command." In this perilous time and place to which we have been called, how critical is it that we are men and women who indeed have understanding of the times and know what Arizona ought to do?
These are just three quick reflections from God's Word this week when on a Friday afternoon, a razor-thin margin continues to separate the two men vying for the Presidency. Most, if not all, has been decided for our state. I ask you to join me in beginning to pray for the men and women who will take office in Arizona's Legislature on January 11, 2021.
As Arizona Capitol Project, we will begin to invest in the lives of these elected officials – some who are brand new to public office. You are invited to join in this movement and make an impact in this cultural moment. Let us be marked by seeking shalom for our cities, Christlikeness in the public square, and wisdom in this cultural moment. I believe these biblical qualities demonstrated by men and women filled with the Holy Spirit will profoundly impact the Legislative Branch in 2021.
Be praying with me that God will direct the hearts of pastors across our state to join in this movement to bring the shepherds of the Church and the shepherds of the government into relationship this coming year. And be praying for your part in this movement. I've met with many of you in recent days both one-on-one and at our regional lunches last month, and I'm sensing that God is beginning to bring together a team of shepherds for this work. I'm excited and encouraged!
-Chris