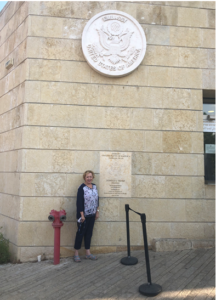 Last week, I was blessed to spend seven days in Israel as part of a small delegation of Christian leaders. Sponsored by the American Israel Education Foundation, I received 4-5 briefings each day on Israel's history, geography, and people. I traveled as close to 50 yards from the border with Syria and 100 yards from the border with Gaza.
I gained a new understanding of the geopolitical dynamics facing Israel. While we visited some of the holy sites, the focus primarily was on gaining a deeper understanding of challenges facing Israel.
It's impossible for me to adequately recap the trip for you; however, I hope you'll find some of my observations informative and interesting.
Demographics:

Nine million people, 20% of Israeli citizens are Arabic-speaking Muslims.
To drive from the northern border to the southern border only takes 5½ hours.
Distances from many parts of Israel to hostile nations are measured in minutes not hours.
Women in Israel have the highest life expectancy in the world and men have the second highest.
Universal healthcare and four education systems all are paid for by the government.

Security:

To understand Israelis, one has to understand the real sense of insecurity the people live with daily. The threat to security is real and ever present. Rockets or missiles can reach any target in the small nation. The threats are multiple and can come from any direction.

A father taking his children out on a walk can hear the warning siren go off from a rocket or missile has launched.
Every home or apartment building has a safe room that serves as a bomb shelter. When the warning siren goes off, one has seconds to run to the safe room. I visited a safe room.
Bus stops near the Gaza border had adjacent bomb shelters.
A tunnel system from Lebanon into northern Israel was found last December. Tens of thousands of missiles have been moved into southern Lebanon, ready to strike Israel.
I walked on trails in the Golan Heights with warning signs for mines left by the Syrians.

Where Americans may vote on economic, education, or other issues, Israelis vote on security.
The "iron dome" deflects most but not all rockets fired. The greatest threat may be the balloons filled with IEDs launched by Gaza into southern Israel. The security barrier around the West Bank, also known as Judea and Samaria, works to protect the Israeli border there.

 Heritage:

The Israelis are a people targeted primarily, or even solely, because of their religious heritage.
I met several Americans who had immigrated to Israel because of their desire to be in the Jewish state. One told us Israel was the safest place for a Jew to live.
The pull of the land and the desire to live in a Jewish state is a reality that most of us Americans have not witnessed nor understood.
Israeli Jews include those who are ultra-orthodox, orthodox, and secular. Secular doesn't mean the Jewish person is agnostic or an atheist, like it would here. It refers to the level of Jewish customs the person follows. One of the secular Jews with whom I spoke voiced a belief in God but chose not to follow many of the customs.

Family and Shabbat:

Shabbat dinner every Friday night is a treasured and honored commitment for families. Our tour guide left us to be with his grandmother and family for Shabbat. Grandma would not have been happy for him to have missed Shabbat. A family opened their home for us to join them for Shabbat. Traditional Jewish prayers were read. The meal was kosher.
Shabbat dinner is Friday night then, Saturdays are observed as the Sabbath with many businesses closed.
Does your family gather for a set time each week to break bread and fellowship? Do you take a day off each week?

 Politics:

Israel has lots of elections. Citizens vote for the party, not the individual representing them. Another election is scheduled for September because the last election did not result in being able to form a government.
The strategies for reaching peace in the Middle East are complicated and not easily obtained.

The two Palestinian areas –Gaza and the West Bank – are controlled by separate factions. One wants one Palestinian state over all the land, while the other is open to the idea of compromise.
Some Israelis view maintaining the "status quo" as the safest option.

Many Israeli Jews support President Trump for four things he has done as President:

Changed the tone in D.C. to one supportive of Israel
Moved the embassy to Jerusalem
Opposed Iranian nuclear deal that was bad for Israel
Recognized Israeli sovereignty in the Golan Heights. A new settlement has been named Trump Heights in honor of this recognition.

Start-up Nation:

As a young nation, Israel is known for its innovation in many fields. I had dinner one night with a young woman who co-founded an online clothing retailer offering modest clothes. Check out Modli.

 Where Jesus Walked:

While my trip was not designed as a spiritual pilgrimage, I was awed by walking up the very same steps that Jesus walked up to the temple in Jerusalem. To look across the Sea of Galilee and walk through that region where so many biblical events happened is an unforgettable life experience.
And, yes, I did float in the Dead Sea!
ICYMI – Latest News & Articles of Interest
Stay connected and consider receiving additional publications by joining the CAP Network