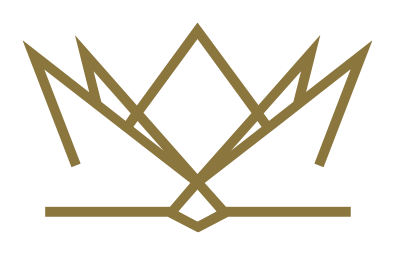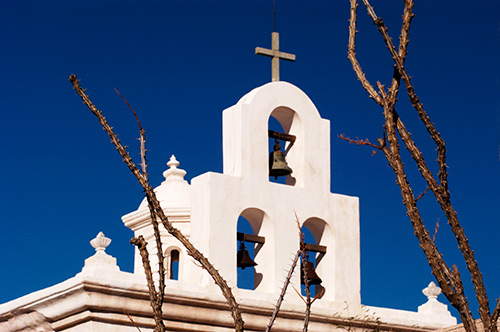 Zelle
Donate to CAP via Zelle right from your mobile banking app! It's quick, easy, and free! Search "giving@azpolicy.org" and make your donation in seconds! (Please add your contact information in the memo line so we can receipt your donation!)

Give by Phone
To make a gift by phone, please call 602-424-2525 weekdays between the hours of 8:30 a.m. and 5:00 p.m., MST.
Give by Mail
To make a gift by mail, please send a check to:
Center for Arizona Policy
PO Box 32428
Phoenix, AZ 85064-2428​
Checks are payable to Center for Arizona Policy. Please be sure to include your full name, address, and a phone number where you can be reached.
If you have appreciated stocks or mutual funds in a taxable investment portfolio, you likely have a significant opportunity to pay less tax, give more, and simplify your giving.
Giving to CAP through a will, trust, charitable gift annuity, or other financial instrument is another way for you to have a substantial impact.
*You can cancel your recurring gift at any time by calling 602-424-2525.
Two Major Victories, Years in the Making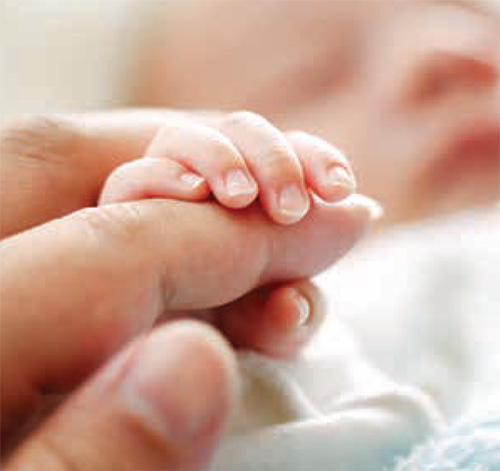 Where were you on the morning of June 24, 2022?
The Center for Arizona Policy (CAP) team was enroute to the office, anticipating—praying for a victory when finally, the U.S. Supreme Court released its decision in Dobbs . . . Roe v. Wade had fallen.
To say there was rejoicing in CAP's office that day would be a major understatement. The prayers of CAP team members and those of tens of millions across the nation had been answered—the Supreme Court finally reversed its most immoral and destructive decision, and rejoicing was in order.
Each team member also knew that when this day came, it would be the beginning of a new stage in the fight for life, not its end. Court battles erupted before the ink had dried on Dobbs, culminating in a Pima County Judge ruling in late September that Arizona's pre-Roe law protecting life from conception could be enforced. Days later, the appellate court halted enforcement until it issues an opinion.
And so it goes. While the expected legal backand-forth plays out, there is much to do. CAP and others of goodwill must make sure Arizona's pro-life pregnancy centers have all the resources—including state funding—they need to serve vulnerable moms and babies. CAP will work with the legislature to shore up Arizona's pro-life laws and continue defending life in the public square. And CAP and all Arizonans need to continue praying and working to end the evil of abortion wherever it persists.
"Held: The Constitution does not confer a right to abortion; Roe and Casey are overruled. . ."
Majority Opinion,
Dobbs v. Jackson
With the enactment of HB 2853, Arizona has set the gold standard in educational freedom for children and their families. All Arizona students are eligible to apply for an Empowerment Scholarship
Account (ESA) to receive funding for educational options like private school or homeschool supplies and curriculum.
Parents in Arizona have made it clear that they, not bureaucrats, retain the authority to determine how their children can best thrive in an educational setting. This bill unleashed prospects for students struggling in their current public schools and gives hope to families looking for options for their children.
More than a decade ago, the Goldwater Institute, Center for Arizona Policy, and other school choice allies collaborated to create ESAs. The new law, sponsored by Rep. Ben Toma and supported by lawmakers and Gov. Doug Ducey who stood up courageously against intense pressure, gives more than one million students the chance to join the ESA program.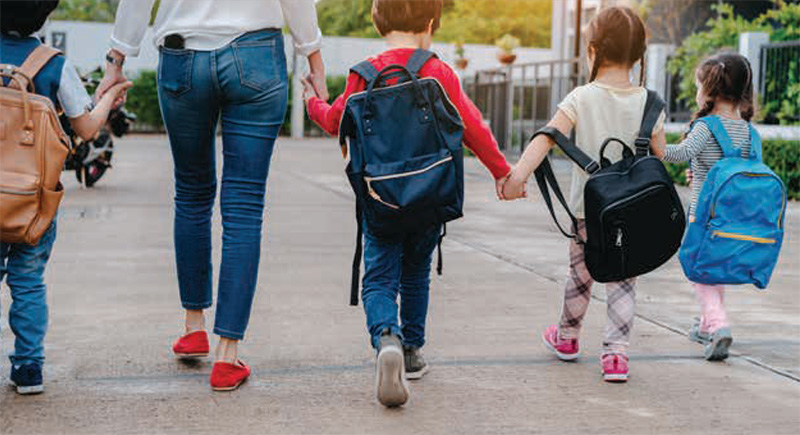 With these two historic victories, our hope is renewed. Thank you for helping to make them possible by standing with Center for Arizona Policy through thick and thin!
Proyecto por la
Familia de Arizona
CAP launched Proyecto por la Familia de Arizona to link arms with our Spanish speaking brothers and sisters and work together to create a positive generational impact in Arizona.
Under the direction of Pastor Macario De La Cruz Jr., Proyecto produces fact sheets, podcasts, and translates the AZ Voter Guide, reaching audiences through weekly emails, social media, television, and radio.
First Year Impact
16 meetings with pastor associations
7 conference speeches, reaching over 1,900 people
100+ pastors and their communities added to our email list
Hosted 5 events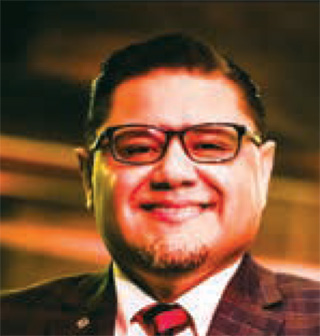 "We thank God for people like Macario de La Cruz and Cathi Herrod, and for the continuous support they offer to Hispanic pastors in our wonderful state of Arizona."
"The Hispanic/Latino community is blessed by the work that Proyecto por la Familia de Arizona is doing in support of our families, faith, and cultural values by informing us and representing our voices when it comes to our religious freedom."
– Mike Alameda, Executive Director of
Corazon Ministries
1 Million + Pageviews+
110,000 print copies distributed
83.4% of site visitors were new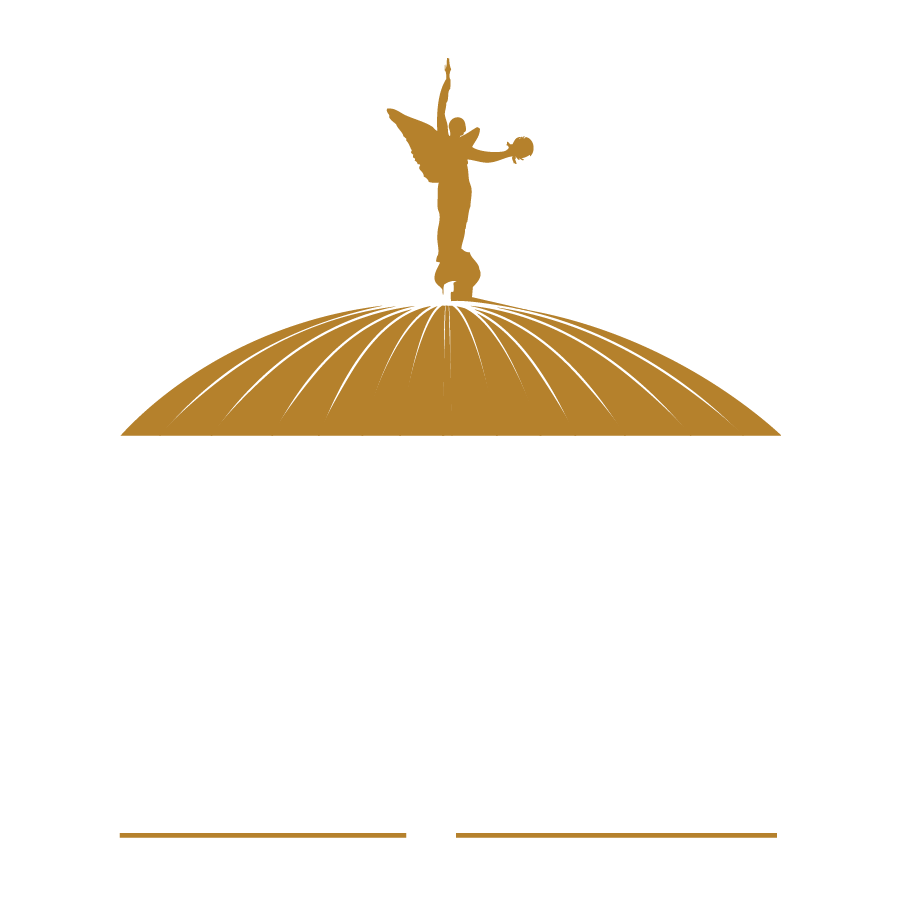 The Arizona Capitol Project (ACP) connects pastors to government leaders, as bearers of God's image, in order to encourage them in their work.
Impact
75+ meetings with 60+ different legislators in 2022, split evenly between parties.
Five meetings included tours of Christian service ministries in the legislator's district.
80+ pastors committed to meeting with their church's legislator in 2023.
Promoted solutions to homelessness: Three churches have begun the process of building affordable housing on campus. Seven more are discerning the possibility.
Foster Care and Adoption: ACP is in discussions to facilitate cooperation between state agencies and local churches in growing participation in these vital services.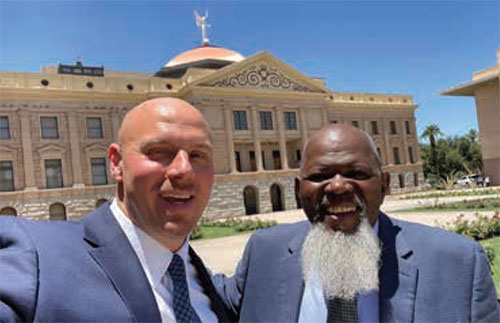 Joe Dalfonso, Assistant Director, Arizona Capitol Project & Pastor Paul Johnson, The Gathering Place Church.
Since this time last year, CAP has added four new positions to expand our reach and continue to grow our influence. One such position is now filled by Todd Beauford, who joined CAP as Director of Marketing in 2021.
What in your background drew you toward CAP's mission?
When I decided to leave law enforcement, I knew I wanted to return to marketing strategy while incorporating my passion for protecting my community and my faith in Jesus. When I saw the opportunity to use my marketing and branding background to help influence law and policy for my community with CAP, it was an easy call.
How does being a husband and father impact your work with CAP?
One of the biggest responsibilities I have as a husband and father is to do everything in my power to ensure that my girls have the opportunity to grow in a safe, peaceful, prosperous community that values what is truly good. That was my attitude while on patrol and now it drives the work I do at CAP.
CAP just had a big year for Arizona families. Which win was the most impactful for you?
A hundred-percent, it's Empowerment Scholarship Accounts (ESAs). My wife, Jess, was a teacher for twelve years, so we knew we wanted to send our girls to a private Christian school. I've lost sleep trying to sort out how we could afford a school that would not only teach our girls the basics but also assist Jess and me in instilling Godly morals and values. Having ESAs will open countless opportunities for our girls.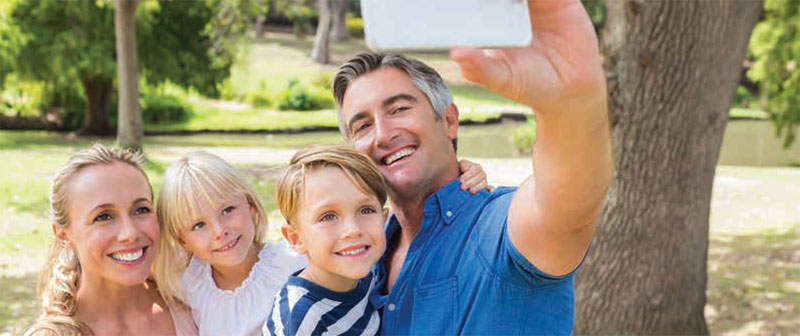 Arizona named Most Pro-Family State in 2022
"There's really no contest here. . . This is the most pro-family state of 2022 because they passed seven important and groundbreaking laws this year that champion your family's values."
Passed a universal school choice law, ensuring that Arizona children can access an education best suited to their needs.
Banned dangerous and irreversible "gender transition" surgeries on children.
Prohibited discrimination against faith-based foster and adoption agencies and families.
Protected girls' sports.
Ensured that religion is an "essential service" in times of crisis like a pandemic.
Banned late-term abortions after 15 weeks.
Gave parents the right to sue when their parental rights are violated, guaranteed parents' access to educational and medical records of their children, and required parental consent for any survey given to children at school.
"Congratulations, CAP— and an even bigger congratulations to the families in Arizona! Your state is a strong pro-family state, and you are well represented at the Arizona Capitol!"
– Craig DeRoche, President and CEO, Family Policy Alliance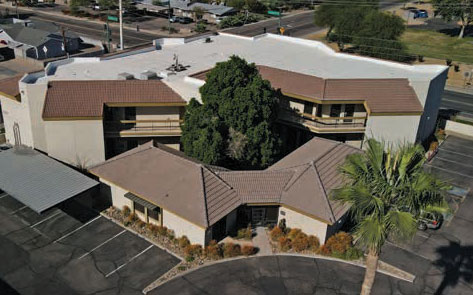 One of our board members put it best: With cancel culture accelerating, skyrocketing event and rental costs, and our robust growth strategy . . . the reasons for CAP not to acquire our own building simply didn't hold up anymore.
Thanks to you, this year CAP made this significant investment in CAP's future. With the new building, CAP and CAP Action aren't just much harder to cancel, they are now cancel proof! CAP is on much more solid footing to continue to grow in a home that serves as a testament to the strength and stability of the broader CAP community.
Importantly, the building represents CAP's commitment to hospitality and stewardship. CAP will soon be able to host events in its very own space,
welcoming friends and collaborators for training, strategic planning, and fellowship. And, as the Board emphasized, replacing a liability with an asset will pay dividends for years to come.
Stay tuned for opportunities to join Center for Arizona Policy for training and mission events! The team can't wait to have you over for a visit.