FROM THE DESK OF CATHI HERROD
Dear Friends,
25 years…and counting.
As a liberal feminist woman in my 20's, I never would have believed that I would have served at a ministry like Center for Arizona Policy for 25 years.
But God…and only God.
Tomorrow will mark the start of my 26th year at CAP, my 17th year as CAP President.
I stand in awe at what God has done in my life.
I entered law school in August 1980, having worked in Washington, D.C., in the U.S. Senate for a feminist legislative aide for a liberal senator. I supported abortion rights and thought the Equal Rights Amendment was the only answer for so-called equality. I worked in many campaigns to elect those on the left.
Sarah Weddington, the attorney who argued for the Roe v. Wade decision legalizing abortion, was someone I admired greatly. She graduated from my same law school. I saw myself as on a similar path. I remember setting up a time for a small group of colleagues to meet with her. Sarah passed away recently. Now I see her as a tragic figure who helped make happen one of the greatest tragedies of our time, which led to the loss of over 60 million children and countless women's and men's lives changed forever.
Thankfully, God turned me around and captured my heart in law school. I entered as a self-described liberal feminist. I graduated as a woman endeavoring to be a faithful Christ follower.
Indeed, with God all things are possible. I marvel at His grace and mercy in my life. I'm grateful for parents and others who prayed for me then and pray for me now.
As we close out this year and look forward to one of our most challenging years yet, I am ready for this day of battle knowing that the results are in God's hands. Proverbs 21:31
The work of CAP is one of persevering, and never giving up or giving in. This is not my work. I am a bystander watching God work.
My constant prayer is for wisdom. To be faithful to this calling. To be faithful to God's word to the best of my ability.
I've learned to guard against developing a hardened heart at whatever trials or sorrow I may face in this life. Trials and sorrow abound in my life just like yours. Bitterness keeps one from being faithful. That's not the path for anyone, especially those of us in this mission.
My heart still breaks daily for the unborn children being aborted, and for their mothers being harmed by abortion. My heart breaks daily for families, and the cultural breakdown tearing apart so many families.
We have much to rejoice about as we close out 2021. Parents are engaging in policy debates and taking action as never before. We may well see the end of Roe by next June. Many are waking up to the failed policies of our opponents. In 2022, we have an opportunity to elect lawmakers in increasing numbers who will stand for foundational principles.
Now is not the time for the weary or faint of heart. It is a time to press on. To redouble our efforts. To increase our prayer times.
In the movie Chariots of Fire, Eric Liddell said he felt God's pleasure when he ran. So too, I can say that I feel God's pleasure, and have great joy in knowing I am where God would have me for these 25 years, with more to come.
From the bottom of my heart, and on behalf of our CAP team, thank you for partnering with us in standing for babies and their mothers, for families, and for freedom. God's blessing and provisions through your prayers and support make this work happen.Thanks be to God.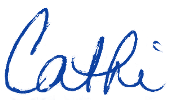 Cathi Herrod, Esq.
President