We discuss the week's events on our latest podcast. Click the graphic to listen. 
Surprised, But Alive
In a surprise move, Senator Tyler Pace on the Senate floor this week voted against Senator Nancy Barto's pro-life bill, SB 1457. It was a tough hit to take, but we here at CAP did not skip a beat. We are working to ensure the major pro-life bill still makes it to Governor Ducey's desk before the end of session.
Senator Barto was forced to switch her vote to "no" on her own bill so she could preserve the option to bring it back up for reconsideration. Senate President Karen Fann and Sen. Barto will work with Senator Pace on his concerns. At the Arizona Legislature, no bill is dead until they adjourn.
Tweets & Lies
The blow came after pro-abortion activists rolled out a false and misleading campaign in an attempt to kill the bill.
How pro-life bill, SB 1457 can be described as "white supremacy," "misogyny" or "transphobia" is beyond me. So, too, are claims it "violates the Establishment Clause" or "ends IVF." One of the most blatantly dishonest claims is that women who have abortions will be charged with a crime. In reality, the bill repeals a pre-Roe law that did just that.
These are just some of the bogus claims made recently about SB 1457, revealing that opponents either have not read the bill, or don't care about the facts as they work to scare both legislators and Arizonans. Here's a sampling: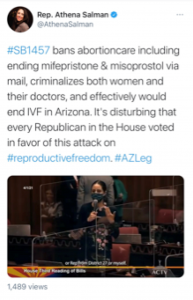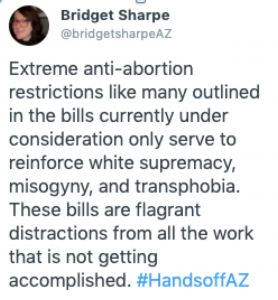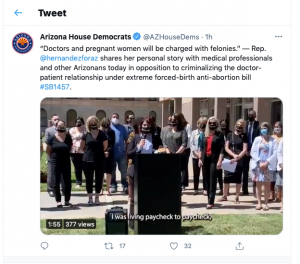 I won't bother showing you the horrible tweets opponents post on my feed. When SB 1457 makes it to Governor Ducey's desk, it will all be worth it. No pro-life bill is ever easy to get through the legislature. Pro-abortion activists have money, power, and a determination to protect the abortion industry's bottom line.
When you see an Action Alert from CAP in your email inbox, please respond to it. Your voice matters. Your legislators need to hear from you. You can help us get this important life-affirming bill and others over the finish line.
ICYMI
Stay connected and consider receiving additional publications by joining the CAP Network.