"Freedom of speech and religion requires tolerance of different beliefs and points of view. In a diverse, pluralistic society such as ours, tolerance of another's beliefs and point of view is indispensable to the survival and growth of our democracy. For this reason, we have always recoiled at those governments and societies that repress or compel ideas or religious beliefs."   
-Arizona Supreme Court, Brush & Nib (¶164)
 On Monday, the Arizona Supreme Court delivered a major victory for free speech and religious freedom in Arizona with its 4-3 decision in Brush & Nib Studio v. City of Phoenix.
Background
Joanna Duka and Breanna Koski, owners of Brush & Nib Studios, create custom wedding invitations, incorporating calligraphy and painting.
They filed a pre-enforcement action to challenge the city of Phoenix sexual orientation and gender identity nondiscrimination ordinance. They serve all people, but because of their religious beliefs, they cannot communicate all messages.
If they declined to create custom wedding invitations for a same-sex wedding, they would be in violation of the ordinance and could face fines of up to $2,500 and six months in jail for every day they were in violation.
They asked the Supreme Court to uphold their right to refuse to create custom-made wedding products for same-sex weddings, and their right to post a statement on their website indicating that because of their religious beliefs they are unable to create such products (¶31).
Arizona Supreme Court Ruling
City cannot compel Joanna and Breanna to create custom wedding invitations celebrating same-sex wedding ceremonies (¶2):

Violates Arizona Constitution article 2, section 6, which reads, "Every person may freely speak, write, and publish on all subjects, being responsible for the abuse of that right."
Violates Free Exercise of Religion Act ("FERA"), R.S. §41-1493.01.

Joanna and Breanna can post a statement indicating that because of their religious beliefs they are unable to create custom wedding invitations for same-sex marriages (¶166).
Who does This Ruling protect?
"But the guarantees of free speech and freedom of religion are not only for those who are deemed sufficiently enlightened, advanced, or progressive. They are for everyone. After all, while our own ideas may be popular today, they may not be tomorrow."
-Arizona Supreme Court, Brush & Nib (¶4)
Contrary to what some are claiming, this ruling provides free speech and religious freedom protections beyond just Joanna and Breanna:
Any artist in Arizona that creates custom wedding invitations that are "materially similar" to those done by Joanna and Breanna would be protected (¶3).
Photographers, musicians, videographers, and writers that create custom works with celebratory messages for weddings would most likely be protected as well (¶¶ 58-60, 79).
The granting of the injunction only benefits Joanna and Breanna, but the reasoning will have broader applications.
Concluding Thoughts
The bottom line is that the Arizona Supreme Court affirmed the foundational principles of free speech and religious freedom expressed in Arizona's Constitution and Free Exercise of Religion Act.
The opening line of the Court's opinion makes this abundantly clear:
"The rights of free speech and free exercise, so precious to this nation since its founding, are not limited to soft murmurings behind the doors of a person's home or church, or private conversations with like–minded friends and family. These guarantees protect the right of every American to express their beliefs in public. This includes the right to create and sell words, paintings, and art that express a person's sincere religious beliefs."
 We rejoice in the great work of Alliance Defending Freedom in defending the rights of Joanna and Breanna, and the rights of all Arizonans to peacefully live and work according to their sincerely held beliefs without fear of unjust punishment.
————————–
To read the Court's opinion, click here.
To view the press conference with Alliance Defending Freedom and Center for Arizona Policy, click on the image below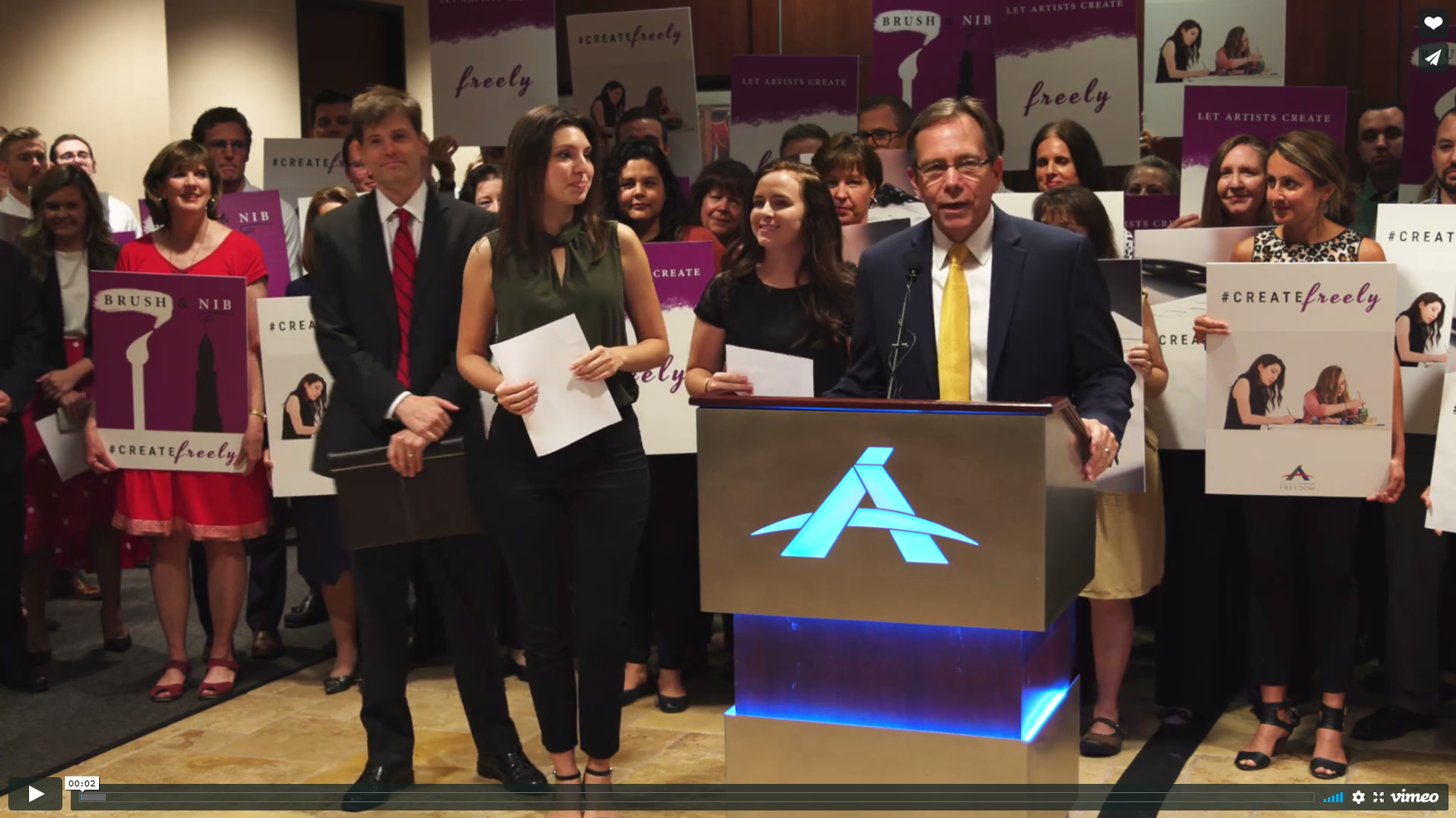 ICYMI – Latest News & Articles of Interest
 Stay connected and consider receiving additional publications by joining the CAP Network.