Americans prayed for the freedoms you and I enjoy today. Many Americans gave their lives for our freedoms as they stormed the shores of Normandy 75 years ago yesterday.
With tears and a grateful heart, I watched some of the remembrances and read the stories.
General Dwight D. Eisenhower wrote to the troops:
"…The hopes and prayers of liberty-loving people everywhere march with you. …you will bring about the…elimination of Nazi tyranny over the oppressed peoples of Europe, and security for ourselves in a free world. …And let us all beseech the blessing of Almighty God upon this great and noble undertaking."
I watched President Ronald Reagan's speech on the 40th anniversary that painted a vivid picture of what the day was like. President Reagan spoke before several heroes who fought that day.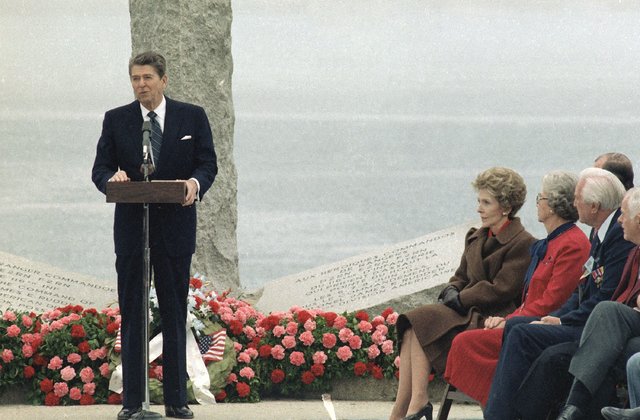 "These are the men who took the cliffs. The champions who helped free a continent…
You risked everything here… Why? What inspired all the men? It was faith and belief. It was loyalty and love. The men of Normandy had faith that what they were doing was right… you were here to liberate. You all knew that some things were worth dying for. All of you loved liberty… were willing to fight tyranny.
In Georgia, they were filling the churches at 4:00 a.m. In Kansas, they were kneeling on their porches to pray. And,in Philadelphia they were ringing the Liberty Bell. …A colonel asked his troops to kneel with him in prayer and told them, "Do not bow your heads but look up so you can see God and ask His blessing in what we are about to do. …let us continue to stand for the ideas for which they lived and died."
Eric Metaxas wrote more about the prayers of faithful Americans:
"So as word of the assault trickled out, Americans began to pray. Stores closed, and prayer services were swiftly organized in small towns and big cities.
Photographs taken on June 6 show just how widespread these prayers were. One picture shows a sign in the window of a novelty button shop reading, "Sorry, no covered buttons today. We are praying for the success of the invasion." A sign in front of a church reads, "Come in and pray for Allied victory: Hourly intercessions on the hour." Another photo shows Americans in a synagogue, bowing their heads in prayer. At a noon Mass, we see men and women on their knees, fervently praying."
In this opinion piece at Fox News, Alliance Defending Freedom founder Alan Sears, wrote:
"And we pause to give thanks for how miraculously the intricate, sweeping details of the invasion Eisenhower and the Allies proposed were accomplished in the generous grace of a God disposed to bring renewed hope and freedom to a war-ravaged world.
A hope we still nourish. And a freedom of which we, and our children, continue to be the grateful beneficiaries."
The power of prayer. The fight for freedom. The courage of Americans.
Today, we still have men and women in uniform fighting for our freedoms. They deserve and need our prayers and support.
But, we also face a different battle, one that will determine whether we have the freedom to live and work according to our faith. To raise our children according to our beliefs. For unborn children to have the right to live. For their mothers to be protected from harm.
May we commit to pray for our nation, for freedom to be preserved. May we have the courage necessary to stand in our time –a courage similar to that of those who stormed the cliffs and beaches at Normandy seventy-five years ago.
ICYMI – Noteworthy News and Articles
Read more from Alan Sears in his new book with Craig Osten and Ryan Cole: "The Soul of an American President: The Untold Story of Dwight D. Eisenhower's Faith."
Listen to Al Mohler's powerfully moving recap of D-Day in his Thursday Briefing.
You voted them into office. Now find out if your legislators are voting with you on key issues. Check out CAP's website for your legislators' voting records.
The Trump administration, this week, cracked down on the use of aborted baby remains for research. In a statement, the Department of Health and Human Services wrote, "Promoting the dignity of human life from conception to natural death is one of the very top priorities of President Trump's administration."
Stay connected and consider receiving additional publications by joining the CAP Network.