Today, the U.S. House of Representatives passed the anti-woman "Equality Act" by a vote of 236-173. The bill will now move to the Senate for consideration.
The controversial bill split the Arizona Congressional delegation.
Representatives voting "Yes:"
Tom O'Halleran (D-1st District)
Ann Kirkpatrick (D-2nd District)
Raul Grijalva (D-3rd District)
Ruben Gallego (D-7th District)
Greg Stanton (D-9th District)
Representatives voting "No:"
Paul Gosar (R-4th District)
Andy Biggs (R-5th District)
David Schweikert (R-6th District)
Debbie Lesko (R-8th District)
Congresswoman Lesko took an active role opposing what she calls the "Forfeiting Women's Rights Act," arguing it "takes away women's and girls' rights that we fought for for years" and that it "infringes on the rights of women and girls to have their privacy and to have safety." Click on the image below to hear her compelling arguments against the Equality Act: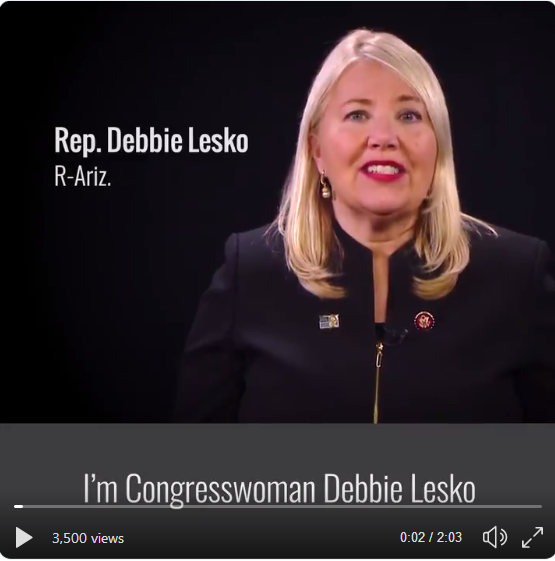 The Equality Act, which adds sexual orientation and gender identity as protected classes in the 1964 Civil Rights Act, not only harms women, but also:
Attacks the fundamental freedoms of speech and religion:

It could force faith-based charities, non-profits, and schools to operate contrary to their religious beliefs concerning human sexuality, or risk punishment or loss of federal funding.
Creative professionals— especially in the wedding industry— could be compelled to communicate messages about marriage that violate their conscience or be forced out of the wedding industry altogether.
In the language of the bill, it overrides the religious protections found in the Religious Freedom Restoration Act. This means that when alleged cases of discrimination involve religious beliefs, religious freedom loses.

Undermines parental rights:

Parents could lose custody of their gender-dysphoric child if they do not support their child's desire to take puberty blocker and cross-sex hormones.
Public education would be legally required to teach and operate in line with transgender ideology, regardless of parental opposition.

Imbeds transgender ideology into federal law:

As Ryan T. Anderson points out, the Equality Act "could impose a nationwide transgender bathroom policy, a nationwide pronoun policy, and a nationwide sex-reassignment health care mandate."
It could force hospital facilities, medical professionals, and insurance plans to provide gender-transitioning services, or be found guilty of unlawful discrimination.
Rather than solve a problem, the so-called Equality Act would open up Pandora's box in our country.
Additional Resources on the "Equality Act:"
ICYMI- Noteworthy News and Articles
Stay connected and consider receiving additional publications by joining the CAP Network.