Horrific –that's the word that comes to me as I hear people talking over and over again about the state of New York.
The next thought —-will Arizona be like New York after 2020 or 2022?
You've heard the news. This past Tuesday, on the 46th anniversary of Roe v. Wade, New York Governor Andrew Cuomo signed into law the most pro-abortion law in recent years, making abortions legal all the way up to birth. The poorly named "Reproductive Health Act" also explicitly denies personhood to the preborn and even allows non-physicians to perform these abortions.
It is a tragic day for New York!
It is a tragic day for our country!
Upon passing the bill, the New York Senate erupted into applause. Watch Planned Parenthood's video of the celebration (click on image below):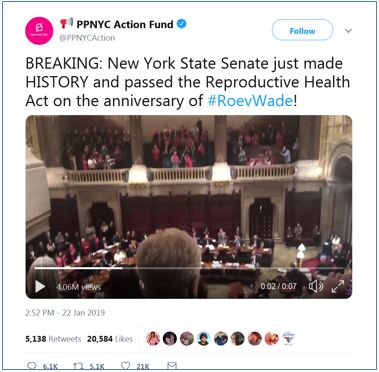 In honor of the new law, Governor Cuomo even lit up One World Trade Center in pink.
I can't help but agree with Benjamin Watson's sober response to this tragic new law: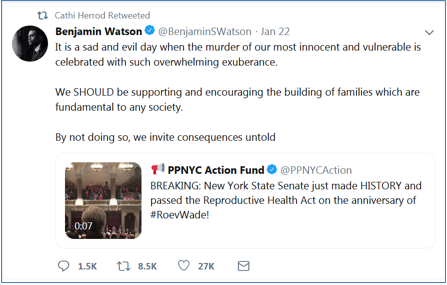 As John Stonestreet recently said about this horrible new law, "The pro-choice movement just revealed its true face. It's not about choice. It's about glorifying, even idolizing, death as the path to a good life, with cult-like glee. Lord have mercy."
Finally, as I wrote on Facebook: If you don't want to see Arizona become New York with that type of horrific law, then commit to pray and be active politically. Those favoring legalized abortion at all stages of pregnancy for any reason are intent on flipping our state legislature to be fully pro-abortion. Now is not the time to grow faint or weary. It's time to engage and stand with those of us defending the preborn and their mothers in the public policy arena and the culture at large.

Pro-Abortion Equal Rights Amendment
The Arizona Legislature will once again be considering the Equal Rights Amendment (ERA) from the 1970s. Members of the legislature held a rally in support of the ERA this past Friday, arguing that Arizona should be the 38th and last state needed to ratify the amendment.
Although proponents argue it is all about equal pay for women, creating a genderless society carries with it a host of problems, not the least of which is enshrining abortion rights into the U.S. Constitution.
Under the ERA, any restriction on abortion could amount to an unconstitutional form of sex discrimination:
New Mexico and Connecticut have used their state ERAs to strike down abortion restrictions.
On January 16 of this year, Planned Parenthood filed a lawsuit alleging the Pennsylvania state ERA prohibits the state from restricting state funding of elective abortions.
The ERA is not needed.
The Fourteenth Amendment already provides equal protection under the law for men and women, and countless federal, state, and local laws already prohibit sex discrimination.
For more information on the problems with the ERA, read CAP's Fact Sheet here.
To contact your legislators in opposition to the ERA click here.
ICYMI – Latest News & Articles of Interest
Albert Mohler discusses New York's newest pro-abortion law on The Briefing.
Stay connected and consider receiving additional publications by joining the CAP Network.