More than 60 million preborn babies have lost their lives with countless women harmed over the last 46 years. Imagine what could have been accomplished by those babies had they lived. Some would now be 35 or 45, solving life's challenges for the common good of all.
Next Tuesday, January 22, our nation once again observes that tragic anniversary, the 46th anniversary of the Roe v. Wade decision where the U.S. Supreme Court manufactured out of thin air the constitutional right to abortion.
The lives lost all were unique from day one, from the moment of conception.
Thankfully, we can report today that the pro-life movement continues to see our nation and public policy inch closer and closer to recognizing and protecting preborn children and their mothers, both in the law and in the culture. However, storm clouds are gathering, especially in Arizona as our state legislature barely has a pro-life majority and our congressional delegation does not.
Contrary to science, proponents of abortion continue to deny the life of the unborn child, preferring to veil their unscientific position with the misleading term of "reproductive rights."
As a recent National Review article points out, science unequivocally confirms that life begins at conception:
"Harvard Medical School's Micheline Matthews-Roth says: 'It is scientifically correct to say that an individual human life begins at conception, when egg and sperm join to form the zygote, and this developing human always is a member of our species in all stages of its life.'"
Celebrating Life
Today, I will gather in Washington DC with tens if not hundreds of thousands to join in the March for Life and celebrate the sanctity of human life. This Sunday, January 20 is Sanctity of Human Life Sunday, when thousands of churches across the country will celebrate God's gift of life, commemorate lives lost to abortion, and commit themselves to protecting human life at every stage.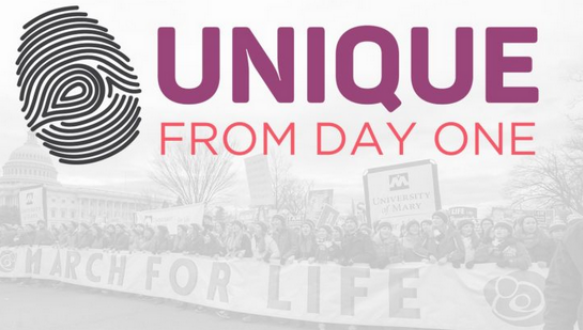 Pro-life Successes in Arizona
For the second year in a row, the nation's top pro-life legal organization has ranked Arizona the #1 pro-life state. Americans United for Life (AUL) recently released its 14th annual "Life List," putting Arizona at the top due to our state's commitment to provide women and their children the most legal protections.
Over 35 CAP-supported pro-life bills have been signed into law since 2009.
According to the latest abortion report from the Arizona Department of Health Services,  the abortion rate in Arizona is 9.2 abortions per 1,000 resident women between 15 and 44 years of age, which is far below the national abortion rate of 12.1 per the latest report available from the CDC.
Abortion numbers in Arizona have been in a pattern of decline since 2011 when mandatory reporting was put into place.
While still too many, only 8 abortion clinics are licensed in Arizona, down from fourteen a few short years ago.
Ways You Can Help Celebrate Life
Encourage your church to observe a Sanctity of Human Life Sunday.
Volunteer at a pregnancy resource center. To find a center near you, visit Heartbeat International, NIFLA or Arizona Life Coalition.
Know the pro-life arguments. John Stonestreet at BreakPoint explains how best to answer pro-abortion arguments.
Support Arizona pro-life outreach efforts by getting a Choose Life license plate.
Pray for an end to abortion.
Stand with CAP through our advocacy at the Capitol.
Yes, today we celebrate life, the scientific breakthroughs proving the humanity of the preborn child for the doubters. However, much work remains to be done. Over 12,000 abortions annually take place in Arizona, and one every 30 seconds nationally are far, far too many. Our commitment to advocating life for the preborn child and protecting women from the harms of abortion is resolute and unwavering.
ICYMI – Latest News & Articles of Interest
Stay connected and consider receiving additional publications by joining the CAP Network.