"'For unto you is born this day in the city of David a Savior, who is Christ the Lord. And this will be a sign for you: you will find a baby wrapped in swaddling cloths and lying in a manger.' And suddenly there was with the angel a multitude of the heavenly host praising God and saying, 'Glory to God in the highest, and on earth peace among those with whom he is pleased!'"
Luke 2:11-14 (ESV)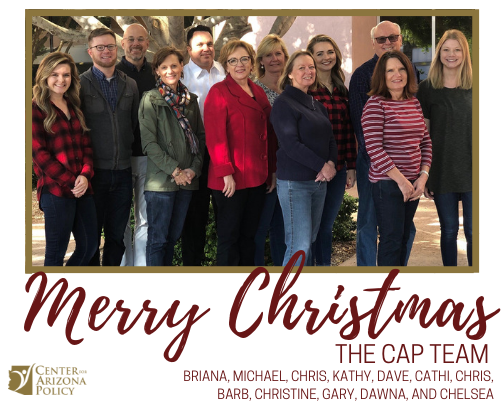 The Center for Arizona Policy (CAP) team are so appreciative of your support and encouragement this past year. With you by our side, we were able to produce the 20th Anniversary edition of our CAP Voter Guide, defeat 75 CAP-opposed bills, have 9 CAP-supported bills signed into law, host over 10 successful educational events, and add a few new members to our team.
Without you, our small team of 12 could never accomplish what we do on your behalf!
So thank you in advance for standing with us once more during this critical moment for life, marriage and family, and religious freedom.
The CAP team wishes you and your family a very, Merry Christmas!

Stay Connected
Stay connected and consider receiving additional publications by joining the CAP Network. You will receive CAP president Cathi Herrod's weekly 5 Minutes for Families email, along with occasional Breaking News, Action Alerts and Special Communications.