Baby Surviving an Abortion Photo Spreads on Facebook!  
This picture of a newborn baby that survived an abortion is spreading throughout Facebook: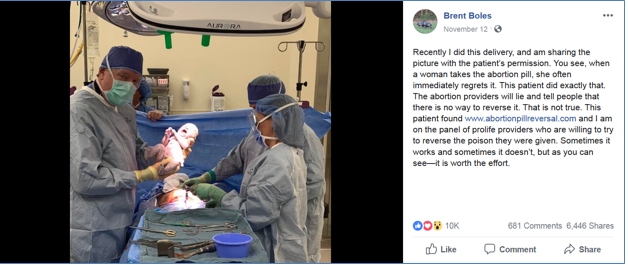 As reported by pregnancyhelpnews.com, the baby's mother underwent the abortion pill reversal (APR) regimen after taking the first abortion pill. Over 500 babies have survived an abortion attempt via APR with another 100 babies on the way.
It was only a few short years ago that I learned about APR. A pregnant woman had regretted taking the first abortion pill at an Arizona Planned Parenthood. A Glendale obstetrician then administered the APR protocol. The abortion was stopped, with mom delivering a beautiful baby girl at full term. That led to a CAP-supported law requiring the abortion industry to inform women about APR.
A Planned Parenthood lawsuit challenging the law led to the following legal settlement adding this requirement to Arizona law: 
"B. If a woman has taken mifepristone as part of a two-drug regimen to terminate her pregnancy, has not yet taken the second drug and consults an abortion clinic questioning her decision to terminate her pregnancy or seeking information regarding the health of her fetus or the efficacy of mifepristone alone to terminate a pregnancy, the abortion clinic staff shall inform the woman that the use of mifepristone alone to end a pregnancy is not always effective and that she should immediately consult a physician if she would like more information." (A.R.S. 36-2153)
The law ensures that a woman who takes the first pill and then goes back to the abortion clinic can't be told that she has to take the second pill and complete the abortion.
Dr. George Delgado, the founder of APR, published a recent study showing that of 754 women who underwent an APR regimen, the success rate was 64% with one regimen and 68% with another regimen, with no apparent increased risks of health defects for the babies. Dr. Billy Chavira, a Phoenix obstetrician, told me he has administered the abortion pill reversal regimen to three women successfully with three babies all born healthy. Similarly, Dr. Clint Leonard, a Gilbert OB/GYN, has had five successful cases after administering the APR regimen. To locate a Arizona doctor trained in APR and to learn more, visit www.abortionpillreversal.com.
Take Action: Center for Arizona Policy has #APR Saves Lives window clings available at no cost! Order yours by clicking here and then put them on your vehicle and post photos of yours on social media to promote APR to your friends!
"A Patient is a Person No Matter How Small"
Dr. Bill Lile, ProLifeDoc.org, emailed me his recent video, describing how surgeons routinely perform heart surgery, spine surgery, and blood transfusions starting at 19 weeks' gestation. Dr. Lile points out that the American College of Obstetrics and Gynecology defines patients as persons. Hence, if they are persons, these babies deserve legal protection.
Take a few minutes to watch his video and visit his website.
ICYMI – Latest News & Articles of Interest
Stay Connected
Stay connected and consider receiving additional publications by joining the CAP Network. You will receive CAP president Cathi Herrod's weekly 5 Minutes for Families email, along with occasional Breaking News, Action Alerts and Special Communications.