For the last several years, I've been blessed to travel throughout Europe. I'm on my way home now from a trip that featured St. Petersburg, Russia. Weather prevented us from being able to visit one special place —Gdańsk, Poland where Lech Walesa led the effort to free Poland from Communist control.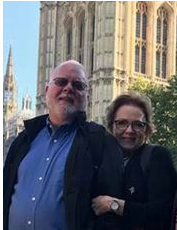 I am blessed to be an American. I cherish the freedom we enjoy in our country.
Yet I often wonder what's ahead for our country. For our families.
In Russia, like other European countries, the ornate, beautiful churches now are museums. The government owns them. Efforts to buy the churches back so that they can function as churches have failed.
Speaking freely about government isn't a risk most would take. When I asked a Russian guide about the government and freedom, I couldn't get an answer in public. The guide feared being overhead. I witnessed a rally where the speaker was praising the government. Yet when the leading opponent holds a rally to protest the government, the leading opponent tends to get arrested.
The Russian Constitution limits the terms of the President. Yet the current President has served longer than the Constitution allows. Ponder for a moment how this has happened and the impact it must have on the nation.
Our Constitution gives us the freedom to speak our minds, to exercise our religious beliefs, to assemble and protest without threat of government action. Just as important, we have the freedom to elect our leaders. Most of the countries I traveled in really don't have that freedom.
Yet I see an America where many are weary of politics. Of exercising that right to vote.
We are under three weeks away from early balloting starting for our November 6 General Election. Please hear me when I say —our freedom is at stake every election. The interpretation and application of our United States Constitution and our state constitution are at stake every election cycle.
I pray that each of you will engage this election season. Our opponents certainly are engaging with both dollars and action. We need you. Stand with us.
Let's be sure to give more than lip service to the freedoms we enjoy in our country. Let's put feet and dollars to defending and protecting those freedoms this election season and always.
You've been hearing about our efforts through Center for Arizona Policy's (CAP) Voter Guide and azvoterguide.com. These resources simply do not exist in European countries, as elections are tightly controlled. CAP, fueled by thousands of ministry friends over the years, is blessed to produce these valuable (and costly!) resources each election year. Together, these two educational resources inform and inspire voters to exercise their freedom to be heard – to vote their values. And that's the beauty of the America we call home.

Won't you take just a moment on this Friday to celebrate this freedom by helping us draw closer to our $100,000 fundraising goal to fully fund the Voter Guide printing and the launch of azvoterguide.com? Your tax-deductible gift will help us reach this goal by Wednesday, September 26, at noon. Thank you for your support!
ICYMI – Latest News & Articles of Interest
Albert Mohler of The Southern Baptist Theological Seminary shared this story on the growing but differing secularism in America versus Europe on his daily podcast on Wednesday.
Don't forget to register to vote for the upcoming General Election. The deadline is October 9.
Last week, we shared why CAP urges a "YES" on Prop 305 in the upcoming General Election.
Stay connected and consider receiving additional publications by joining the CAP Network.