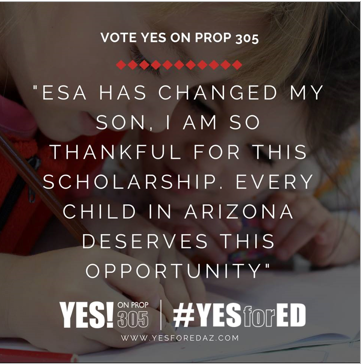 Center for Arizona Policy (CAP) would urge you to vote "YES" on Prop 305 in the upcoming General Election.
Why? Because every family deserves the opportunity to choose the best educational setting for their child.
CAP supports a parent's right to choose from a wide variety of school options, including district, charter, online, private, or homeschool. Parents are in the best position to make these choices, as they are most familiar with the educational needs, personalities, learning styles, and interests of their children.
When it comes to education, one size doesn't fit all.
That is why CAP supports the expansion of the Empowerment Scholarship Account (ESA) program— it gives more families more options. Click here for stories from families that have benefited from the ESA program.
What is the ESA Program?
The ESA program allows parents to withdraw their children from district or charter school and receive ninety percent of state funds allocated for their child for a variety of educational expenses, including therapy, tutors, textbooks, curriculum, tuition at private schools, and even fees for standardized tests.
As originally passed in 2011, the ESA program was only available to students with disabilities. Since then, Arizona has expanded those qualified for the program, and it now includes:
Students in foster care
Students living on an Indian reservation
Students in failing or underperforming school districts
Students with a parent who is on active military duty or was killed in the line of duty
Students with a parent who is legally blind, deaf, or hard of hearing
Students with a sibling who is a current or former ESA recipient
What is Prop 305?  
In 2017, the ESA program was further expanded to include all district and charter school students by phasing in eligibility over four years with the number of students capped at approximately 30,000 (around 3% of all public school students). To read the bill that expanded eligibility, click here.
However, opponents to the expansion gathered enough signatures to refer the law to the 2018 General Election as Prop 305. A "yes" vote will be in favor of enacting the 2017 law expanding eligibility, while a "no" vote will repeal the law.
For analysis and summary of Prop 305 from Legislative Council, click here.
For Prop 305 ballot language, click here.
For ballot arguments in favor of Prop 305, click here.
What if Prop 305 is defeated?
Anti-school choice advocacy groups have already made known that their legislative agenda for 2019 includes repealing the entire ESA program and Arizona's scholarship tax credit program (STOs). Obviously, whether this can happen depends on the outcome of the upcoming election in November.
Regardless of how the election turns out, if Prop 305 is defeated— especially if it is by a large margin— school choice opponents will gain momentum, and will try to convince legislators that Arizonans no longer want school choice.
Even if they find that complete elimination of school choice programs is not feasible, anti-school choice groups will nonetheless strive to cut them back if they sense school choice support is waning.
That is why a "YES" vote for Prop 305, is a "YES" vote for all school choice options.
ICYMI – Latest News & Articles of Interest
Last week, the City of Phoenix filed its response to Brush & Nib, asking the Arizona Supreme Court not to hear the case. In light of Masterpiece Cakeshop, the Arizona Supreme Court should take this case to determine the state of religious freedom in Arizona and reverse the holding from the Arizona Court of Appeals. The issue in this case, as in Masterpiece Cakeshop, is whether artists can be compelled by the government to create art to celebrate an event that violates their conscience.
Albert Mohler discusses on The Briefing a recent study finding that "gender dysphoria" in teenage girls could actually be fueled by "social contagion," and the academic backlash against Lisa Littman, the author of the study.
Don't forget to register to vote for the upcoming General Election. The deadline is October 9.
The Senate Judiciary Committee will convene to vote on Judge Brett Kavanaugh next Thursday, September 20th at 1:45 PM (EDT).  After that, Kavanaugh's nomination will likely be reported favorably to the Senate floor, setting up final floor votes during the last week of September. If everything stays on schedule, Kavanaugh will be confirmed in time for the Supreme Court's new session that begins on October 1st.
Stay connected and consider receiving additional publications by joining the CAP Network.