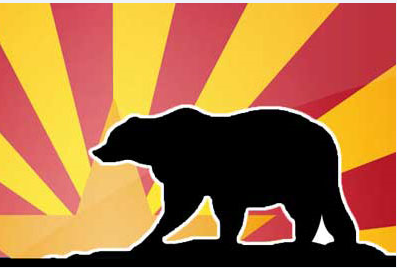 40 days until Arizonans start early ballot voting.
67 days until the November 6 General Election.
Primary Election is over. Candidates are set for U.S. Senate and Congress, statewide offices, Arizona House and Senate and many more elective offices.
November 6 may well decide whether Arizona becomes the next California.
From the California billionaire to Human Rights Campaign to Planned Parenthood, the left continues to pour millions into our state to flip us from a state that respects foundational principles and the Constitution to one that doesn't.
Take two minutes to see why we say "Don't California My Arizona."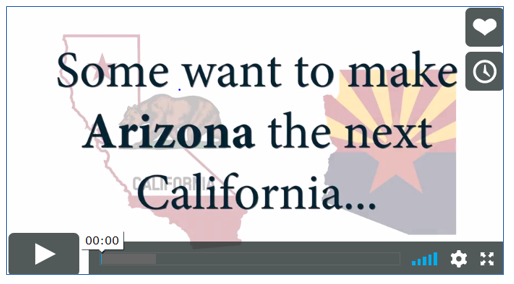 For a deeper dive into what's happening in California, listen to "Engage Arizona," our new podcast. This edition features my colleague Jonathan Keller, President of California Family Council. Jonathan fights the good fight in California.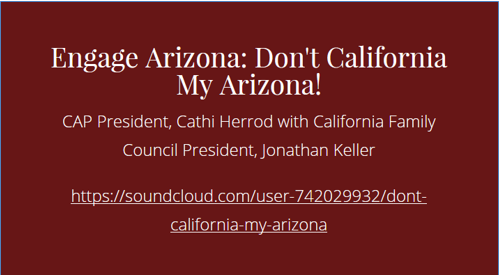 From now until November 6, let's do our part to keep Arizona the best state in which to raise a family.
Let's heed the closing words from Sen. McCain in his farewell letter:
Do not despair of our present difficulties but believe always in the promise and greatness of America, because nothing is inevitable here. Americans never quit. We never surrender. We never hide from history. We make history.
Farewell, fellow Americans. God bless you, and God bless America.
For the next 67 days, don't despair of what you may see in the news. Don't despair of what you may see in ugly campaign ads, divisive rhetoric, or even tweets.
Rather, remember that nothing is inevitable. We each have a duty, privilege, and obligation to stand for freedom and our families by exercising our right to vote.
Stand with us as we work to equip voters to know where candidates stand on the issues that matter to you.
ICYMI – Latest News & Articles of Interest
Victory: Arizona Supreme Court upholds free speech rights for attorneys in Arizona, including CAP VP of Policy & General Counsel, Michael Clark and me. Read Alliance Defending Freedom's statement and letter signed by Michael Clark and me in defense of free speech.
Mark Your Calendars:

November 4 — join us at the State Capitol to pray for the November 6 election.
November 10 — join us for our traditional post-election wrap-up with Hugh Hewitt.

Stay Connected

Stay connected and consider receiving additional publications by joining the CAP Network. You will receive CAP President Cathi Herrod's weekly 5 Minutes for Families email, along with occasional Breaking News, Action Alerts, and Special Communications.