As you may have heard this week, Center for Arizona Policy's (CAP) preeminent election resource is live for the 2018 Primary Election at azvoterguide.com!
We are pleased to announce two new beneficial features to voters:
1. Candidate endorsements
For the first time, we have included candidates' organizational endorsements – giving you more information about a candidate than ever before at azvoterguide.com! If a candidate has organizational endorsements, they will be listed beneath the candidate's survey responses and comments on the candidate's page.
2. Compare your own survey answers with the candidates' answers!
At azvoterguide.com you can now take the same survey the candidates took and compare your answers to the candidates, making it easier to vote your values this Primary Election!
Below is a brief video to help you, your family, your friends, and even your church navigate and use azvoterguide.com this year.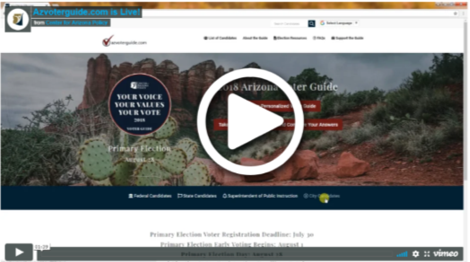 In short – the 2018 Primary Election Voter Guide and azvoterguide.com are the most feature-filled editions in its 20-year history.
The CAP team is blessed to distribute the printed Voter Guide to families, groups, and churches, as well as launch the website as tools for you, your family, and your neighbors during the 2018 Primary Election.
Our goal is to reach more than one million voters in order to equip and educate them with the information they need to be informed voters on August 28! And Arizona families make this possible!
You've likely heard that this project takes $100,000 from conception to reality. While we've not yet reached that goal, we're confident we can get there, and we're asking you to take just a moment and chip in to help. You can click here to make a tax-deductible contribution.
Thanks!
Stay connected and consider receiving additional publications by joining the CAP Network.