Now we know. President Trump has nominated Judge Brett Kavanaugh to fill Justice Kennedy's seat on the U.S. Supreme Court. For those of us concerned about the lack of civility in public discourse, we've already seen unprecedented attacks on Judge Kavanaugh this week. The left quickly has mobilized to paint Judge Kavanaugh's record in the worst possible light regardless of whether the facts support their narrative. The nomination battle ahead in the U.S. Senate promises to surpass the ugliness and brutal attacks experienced by Judge Robert Bork and Justice Clarence Thomas.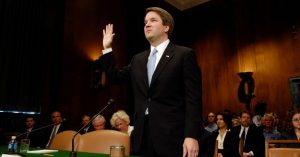 As I wrote in my Breaking News statement Monday evening, one cannot truly predict how an individual will rule once on the U.S. Supreme Court. One only can look at the judge's record and try to discern a judicial philosophy. At this juncture, Judge Kavanaugh appears to be one who will look to the text of the Constitution to interpret the law. His record does not show him to be a judge who makes policy from the bench.
We likely will be hearing Judge Kavanaugh frequently say what he once wrote:
"The judge's job is to interpret the law, not to make the law or make policy. So read the words of the statute as written. Read the text of the Constitution as written, mindful of history and tradition. Don't make up new constitutional rights that are not in the text of the Constitution. Don't shy away from enforcing constitutional rights that are in the text of the Constitution."
Here's some of what we know about Judge Kavanaugh:
Has defended our right to practice our faith without government interference.
Voted to block the Obama Administration from compelling Priests for Life to provide abortifacient and contraceptive coverage to their employees in Priests for Life v. HHS.
Rejected the ACLU's argument that undocumented immigrant minors in U.S. custody had a constitutional right to an immediate abortion on demand. Wrote of the government's "permissible interests in favoring fetal life" and "refraining from facilitating abortion."
Upheld opening invocation at government ceremonies in Newdow v. Roberts, writing that "stripping government ceremonies of any references to God or religious expression … would, in effect, 'establish' atheism."
At a hearing on D.C. Metro's ban on religious advertising, including Christmas ads, stated that the ban was "pure discrimination" and "odious" to the First Amendment.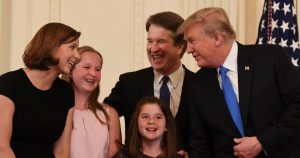 Judge Kavanaugh began meeting with senators this week. Former U.S. Senator Jon Kyl is his "sherpa" to accompany him on Senate visits and shepherd him through the nomination process. The Senate Judiciary Committee hearings likely will be held by late August with full Senate confirmation by late September. Judge Kavanaugh should be sworn in as Justice Kavanaugh in time for the new U.S. Supreme Court term beginning the first Monday in October.
ICYMI – Latest News & Articles of Interest
Stay connected and consider receiving additional publications by joining the CAP Network.