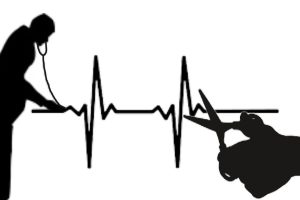 The Dignity of Every Human Life
Death with Dignity. Sounds like a nice phrase, right? Not so fast. It's the name of the national organization promoting doctor-prescribed death, also known as physician-assisted suicide in every state. The national director recently promoted legalizing doctor-prescribed death at a legal seminar I attended. Yet the director and a medical ethicist acknowledged that palliative care alleviates pain and suffering at the end of one's life.
The push is on to legalize doctor-prescribed death in every state, including Arizona. To date, seven states and the District of Columbia have legalized PAS including, California, Colorado, Hawaii, Montana (court ruling), Oregon, Vermont, and Washington.
At CAP, we stand for the dignity and sanctity of human life from its very beginning to its natural end. Take time to learn about what's wrong with doctor-prescribed death. Listen to this powerful discussion from John Stonestreet and Joni Eareckson Tada.
To listen to their conversation, click on the image below: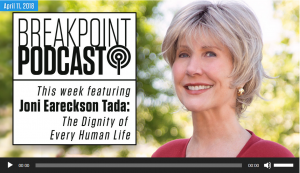 Doctors Waffling on Doctor-Prescribed Death
Troubling signs surfaced recently that the nation's most recognizable doctors' group may be waffling on opposition to doctor-prescribed death.
After a two-year review, the American Medical Association's (AMA) Council on Ethical and Judicial Affairs presented a report at the annual meeting recommending that the AMA maintain its opposition to physician-assisted suicide, rather than adopt a neutral stance.  However, the AMA House of Delegates voted 56 to 44 percent to reject the recommendation and called for them to keep studying the issue. The delegate indicated the Council should reconsider the AMA's longstanding opposition.
AMA's current official position is that "permitting physicians to engage in assisted suicide would ultimately cause more harm than good" because…
PAS is "fundamentally incompatible with the physician's role as healer"
PAS "would be difficult or impossible to control"
PAS "would pose serious societal risks"
In its report, the Council mentioned some of the major concerns with PAS:
"[B]oundaries will be eroded and practice will extend beyond competent, terminally ill adult patients. . . to patients with psychiatric disorders, [and] children."
"[C]riteria will be broadened beyond physical suffering to encompass existential suffering."
"[S]tigmatized or socioeconomically disadvantaged patients will be coerced or encouraged to end their lives."
PAS "will compromise the integrity of the [medical] profession, undermine trust, and harm the physicians and other health care professionals who participate."
"[F]orces outside medicine will unduly influence decisions."
Elections Matter! Will Arizona be the Next State?
Physician-assisted suicide could be front and center in Arizona during the next legislative session depending on the outcome of the 2018 elections. Bills to legalize physician-assisted suicide have consistently been introduced the last several legislative sessions.
To vote in the August 28 Primary Election, you must be registered to vote by July 30. Early balloting begins August 1. CAP's Voter Guides and the azvoterguide.com website will be available after July 28.
Be sure to make your voice heard this election season on issues you care about!
ICYMI – Latest News & Articles of Interest
Stay connected and consider receiving additional publications by joining the CAP Network.