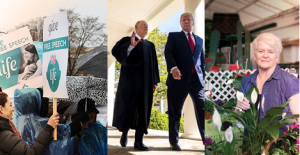 Let's pause for a few seconds and reflect on the incredible developments of the last few weeks:
U.S. Supreme Court (SCOTUS) rules in favor of Jack Phillips. Free exercise of religion affirmed.
SCOTUS tells Washington Supreme Court to reconsider Arlene's Flowers, the case of florist Barronelle Stutzman. This should mean Barronelle's First Amendment rights are restored.
SCOTUS rules that California law compelling pro-life pregnancy centers to communicate a pro-abortion message is unconstitutional. Free speech affirmed.
SCOTUS rules that individuals cannot be compelled to join a public union. Free speech and freedom of association affirmed. In the Janus opinion, the Court also overturned longstanding precedent, an atypical move. That's a good sign for future cases related to the sanctity of human life.
Then, to top it all off, Supreme Court Justice Anthony Kennedy announces his retirement.
Two of the three cases above were decided by 5-4 margins with Justice Kennedy being the swing vote. Kennedy wrote the Masterpiece decision. Those decisions would not have happened without President Trump appointing, and the U.S. Senate confirming, Justice Neil Gorsuch's appointment to SCOTUS.
While Justice Kennedy voted to uphold constitutional rights in these cases, let's not overlook the times he has not been a constitutional conservative, including his authoring the Obergefell decision that legalized same-sex marriage. Further, while Kennedy wrote the opinion upholding the federal ban on partial-birth abortion, he also affirmed the infamous Roe decision legalizing abortion and struck down other state abortion regulations.
Now, we have an opportunity to see another Justice Gorsuch, another constitutional conservative, appointed to the high court. This opportunity never would have happened without the 2016 elections.
It's an understatement to say that Justice Kennedy's announcement set the political world on fire. The average time to confirm a SCOTUS nominee is 8-10 weeks. Groups like Planned Parenthood and the Human Rights Campaign, as well as leading senators, already are yelling about doing all they can to stop the confirmation process. Thankfully, Senate Majority Leader Mitch McConnell already has stated the Senate would confirm the nominee by the fall.
The vacancy underscores even more the critical importance of the 2018 elections. Arizona will be electing a new U.S. Senator. That Senator likely will be in a position to vote on even more SCOTUS appointments over the next six years.
To those who tell me, they are tired of being told each election matters because of the U.S. Supreme Court, I say "well, too bad" —the judicial nominations are the most important reason you have to vote this election year.
Then, if the news from D.C. wasn't enough, in Arizona…
The Arizona Court of Appeals ruled against Brush and Nib, the Phoenix artists challenging the Phoenix nondiscrimination ordinance as being a violation of their First Amendment rights. That decision is being appealed to the Arizona Supreme Court.
The Arizona Primary is less than two months away. The CAP Voter Guide is in development. Our Voter Registration kit is available. And, ballot propositions will be filed next week.
When someone asks me whether the CAP work slows down in the summer, I laugh. No, we've got more on our plate than ever. It's an exciting time with significant meaning for the future.
What You Can Do Now:
Pray, pray, pray.

Pray for President Trump and his decision to nominate the next U.S. Supreme Court justice.
Pray for the U.S. Senate. Pray especially for Arizona Senators Jeff Flake and John McCain. Pray for confirmation of the President's nominee.

Watch the news. Learn about the person that will be appointed by President Trump.
Stand ready to act.
ICYMI – Latest News & Articles of Interest
Stay connected and consider receiving additional publications by joining the CAP Network.