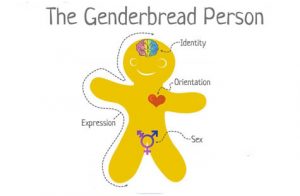 Earlier this year, a Flagstaff middle school provided "anti-bullying" training for some of its students, but the outside group providing the curriculum used it as an opportunity to promote transgender ideology.
The curriculum, which included "The Genderbread Person," taught seventh graders:
That gender is different from biological sex
That there are not two genders, male and female, but rather an endless array of genders, including genderqueer, non-binary, pangender, androgyne, neutrois, gender-variant, AG, cyborg, two-spirit, glitterbutch, genderfluid, trigender, stud, agender, and genderless, to name a few.
In response to complaints from parents, a representative from the Flagstaff Unified School District stated that the curriculum was approved by the school principal, not the district governing board.
However, the representative emphasized that anti-bullying training should not be controversial and was meant to help students "feel safe and secure." Click on the video below to view a news story on the controversial anti-bullying lesson: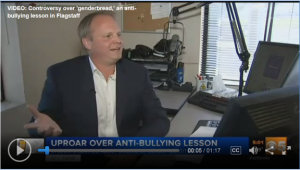 Arizona law and parental rights…
Under Arizona law (ARS 15-102):
School districts must have "procedures by which parents may learn about the course of study for their children and review learning materials, including the source of any supplemental educational materials." (ARS 15-102(A)(2)).
School districts must have "[p]rocedures by which parents who object to any learning material or activity on the basis that it is harmful may withdraw their children from the activity or from the class or program in which the material is used. Objection to a learning material or activity on the basis that it is harmful includes objection to a material or activity because it questions beliefs or practices in sex, morality or religion." (ARS 15-102(A)(3)).
Parents need to "be notified in advance of and given the opportunity to withdraw their children from any instruction or presentations regarding sexuality in courses other than formal sex education curricula." (ARS 15-102(A)(5)).
It appears that the Flagstaff school complied with the law by notifying parents about the anti-bullying training. However, the permission slip's vague reference to "gender socialization" did not inform parents exactly what was going to be taught to their children.
On a similar matter, if the school district provides sex education classes, written parental permission is required to "opt-in" their student prior to the classes being held (ARS 15-102(A)(4)). Materials on gender identity likely will be included in any sex education class.
Next steps…
Nothing in Arizona law prohibits transgender ideology from being taught in schools. Schools need to notify parents, but the permission slip might not include enough details for a parent to make an informed decision.
Therefore, as a practical matter, it would be wise for parents to ask to see the curriculum that will be used anytime a permission slip mentions instruction on sexuality, gender, or bullying.
Parents should also be aware of the responsibilities and rights they have toward their children in district or charter schools as described in ARS 15-102 and ARS 15-113.
Helpful resources on responding to transgenderism…
Talking Points: Transgender by Vaughan Roberts
God and the Transgender Debate: What Does the Bible Actually Say About Gender Identity? by Andrew T. Walker
When Harry Became Sally: Responding to the Transgender Movement by Ryan T. Anderson
ICYMI – Latest News & Articles of Interest
Preorder copies of CAP's 2018 Voter Guide here.
"Masterpiece, Marriage, and Bigotry: The Court's Ruling Is More Robust than Many Acknowledge" from Public Discourse, highlighting that:

"A majority of justices are hesitant to characterize as bigots the millions of ordinary Americans who understand marriage according to its nature as a man-woman union."
"The intentions of business owners, rather than the foreseen effects of their actions, determine their liability or non-liability under the public accommodation doctrine."

The Department of Justice recently announced the "Place of Worship" Initiative, in order to "increase enforcement and public awareness of the land use provisions of RLUIPA. These provisions protect places of worship and other religious uses of property (including religious schools and religious social service providers) in the zoning and landmarking process from actions by local governments."
Stay connected and consider receiving additional publications by joining the CAP Network