Can a state compel pro-life pregnancy centers to promote abortion?
The U.S. Supreme Court recently announced that it wants to address this question by granting review to a case called National Institute of Family and Life Advocates (NIFLA) v. Becerra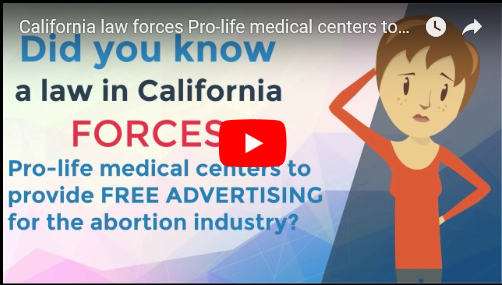 California enacted a law called "Reproductive FACT Act," with the stated purpose of targeting "crisis pregnancy centers" because they discourage abortion. The law forces pro-life pregnancy centers to post notices that encourage women to contact the state to receive information on free or low cost abortions. The disclosure must include a phone number for a county office that would then refer women to Planned Parenthood or other abortion clinics.
This law clearly violates the Free Speech rights of the pregnancy centers. "Forcing anyone to provide free advertising for the abortion industry is unthinkable—especially when it's the government doing the forcing. This is even more true when it comes to pregnancy care centers, which exist specifically to care for women who want to have their babies," said Alliance Defending Freedom (ADF) Senior Counsel Kevin Theriot. "The state should protect freedom of speech and freedom from coerced speech. Information about abortion is just about everywhere, so the government doesn't need to punish pro-life centers for declining to advertise for the very act they can't promote."
For more information on the case see, ADF's summary, Question Presented document from the Supreme Court, and SCOTUSblog.
NIFLA v. Becerra is the second compelled-speech case the Supreme Court has agreed to consider. On December 5, the Supreme Court will hear oral arguments in Masterpiece Cakeshop v. Colorado Civil Rights Commission. In Masterpiece Cakeshop, the State of Colorado is compelling Jack Phillips to use his creative talents to design a custom wedding cake for single-sex wedding celebrations. As in NIFLA v. Becerra, the government should not be in the business of compelling its citizens to communicate a message that violates their conscience.
Pro-life organizations and creative professionals should be free to carry out their work according to their core convictions without fear of unjust government punishment.
Thankfully, Arizona law does not require pregnancy centers or any health care entity to refer a woman to an abortion clinic or provide information about abortion services. But, Arizona does not have a law like this only because the Arizona Legislature has a pro-life majority. That's where your vote makes a difference in protecting both women and preborn children.
ICYMI – Latest News & Articles of Interest