Leaving Babies to Die
Baby girl Zeitner was delivered alive following an abortion at 22 weeks, 3 days. She lived for one hour and eighteen minutes. APGAR score of 4.
Investigative records reveal that baby girl Zeitner did not receive any resuscitative care.
Simple efforts, like helping her breathe were not made. She was never given a chance at life by giving her simple, humane medical care.
A 911 call from an abortion clinic. Baby breathing after an abortion. Clinic only had oxygen available to help this baby. The baby dies soon after.
Two babies. No longer "fetuses" but living, breathing human beings.
Knowing about these tragedies is what led us to examine Arizona's 1975 law that requires "all means and medical skills be used to preserve, protect, and promote the life" of a child delivered alive from an attempted abortion. To question how this could happen.
Perhaps we shouldn't have been surprised. But we have been.
Clearly, the law isn't being followed. That's why we're advocating for SB 1367 to ensure the law is enforceable and followed. The bill defines terms like "delivered alive" and "abortion." Read the bill here and Wednesday's amendment here.
Some doctors are opposing this bill. The very ones whose duty is to preserve, protect, and promote life are saying this bill is unreasonable.
Essentially, the doctors are saying they want to be able to encourage parents to abort their child when the child has been diagnosed with a fetal anomaly. Oh sure, they allege the fetal anomaly is lethal.
Even if the baby is delivered alive, they want to let the baby pass; to not provide humane, ethical, life-saving treatment for the infant.
Stop and think about that. Think about the personal stories you know of a diagnosis that was wrong. That the baby didn't die. But taking the baby to full-term gave the baby a real chance of life.
One doctor even stated that the decision is made before the baby is born about whether or not to resuscitate. Really? Even with the best medical technology, it isn't always known how viable a baby is until birth and until life-saving care is provided.
Another doctor alleged that just because there are signs of life does not mean they can sustain the life. Really?
Check out the heart-warming stories of babies that survived an abortion at the Abortion Survivors Network.
Arizona abortion clinics advertise abortions through 23 weeks, six days.
Yet we see story after story, including from medical experts, that babies are surviving at 22 weeks and even earlier.
No question that babies can and are surviving attempted abortions.
SB 1367 is about the babies.
Thankfully, the Arizona House Judiciary Committee passed SB 1367 on Wednesday on a party-line vote. The Arizona Senate already passed it 18-12.
I counted it a privilege to stand before the committee in defense of these babies, even when grilled for a half hour or more by the legislators opposing the bill.
Here's the video of my appearance: azpolicy.org/sb1367testimony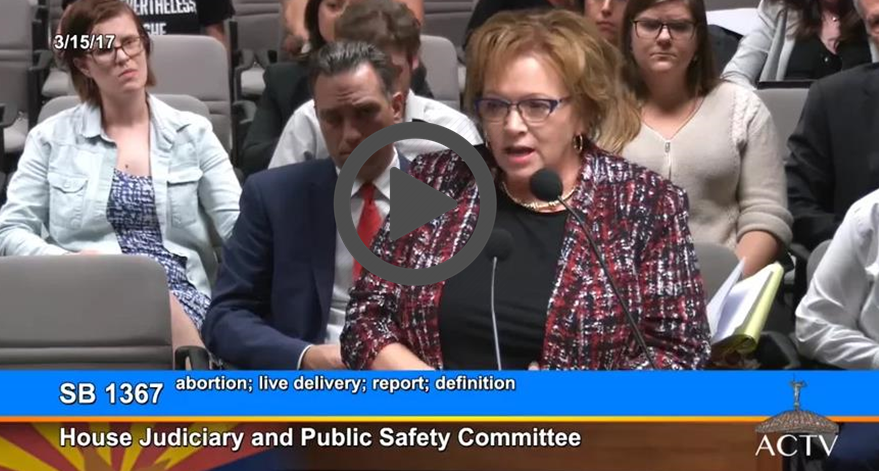 The full House of Representatives could vote on it as early as next week.
Take time to pray for parents considering an abortion. Pray for the moms pregnant with a child diagnosed with a fetal anomaly.
This work matters. You standing with us makes a difference! Thank you for standing with us.
Lastly, I'd be remiss if I didn't say we'd also appreciate your financial support. We depend on the generosity of our ministry friends like you.