Expanding parents' rights and students' opportunities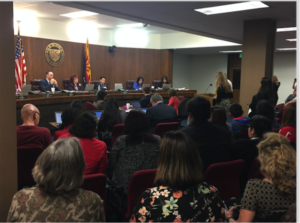 At the State Capitol, before a packed hearing room yesterday, parents and students shared story after story about how the Empowerment Scholarship Account (ESA) program had enabled parents to choose the best educational setting for their child.
Thankfully, the Senate Education Committee narrowly passed SB 1431 by a vote of 4-3 to expand the ESA program to include all Arizona public school students. Currently, the ESA program has only limited availability to certain groups of students.
Yesterday's hearing was the first step in a long process. Next Monday, the House Education Committee will hear Rep. John Allen's bill, HB 2394, an identical bill to SB 1431.
To keep up to date about SB 1431/HB 2394, follow the CAP Bill Tracker. You can read our Fact Sheet here.
Read Senator Debbie Lesko's bill here: SB 1431
CAP's take – why we support SB 1431/HB 2394
Center for Arizona Policy has always stood on the side of parents. We believe parents are best suited to decide where and how their children should be educated. That could mean public school, charter, private school, online, or homeschool.
ESAs empower parents to do just that. Students in the program get 90% of what the state would pay to educate that child in a charter school. They can use that money for a variety of education expenses, allowing them to thrive in the education environment that best suits them.
To us, it's about doing what's best for children. Some children will thrive in the traditional public school. Others in charter schools. Others in private schools. Let's give all parents and children those opportunities.
The opposition to school choice programs by the teachers' unions, school board association, and others in the educational establishment never fails to amaze and sadden me. It's about the children, not the institution.
Savannah's story
Seven-year-old Savannah is a great example of what a difference the ESA program has made in the lives of Arizona families. She was struggling in a public school classroom of 30. She couldn't concentrate, lacked confidence and reading skills, and she didn't want to do homework.
After being diagnosed with ADHD and qualifying for an ESA, Savannah now thrives at a local private school. Her mom, Denise, says the difference is night and day now that Savannah is getting the extra attention she needs. She said, "I see it in her confidence. She is reading on grade level. She actually got up and read in front of the classroom. I cried." Denise says she absolutely could not have afforded private school without the help of an ESA.
Every Arizona family deserves that same opportunity.
Meet the new Education Secretary, Betsy DeVos
An historic senate vote Tuesday put a true school choice champion in the highest education position in America. As the new U.S. Secretary of Education, Betsy DeVos will bring her well-established record of an education advocate for all children to Washington, D.C.
Read here why DeVos is a good choice to lead the department.
Read Guy Benson's take on whom he calls a "reformer" here.

Yet, another bill aimed at school choice
Senator Sean Bowie introduced SB 1427, which would do a number of things, including disqualifying tax credit contributions to school tuition organizations (STO) if the taxpayer even recommends a student to receive the benefit. This discourages people from contributing to this school choice program.  It would also impose additional costly regulations on smaller STOs.
I'm starting to lose count of all the bad bills introduced to deny parents school choice opportunities.
Read SB 1427 here.
Election note:
Do you live in Phoenix City Council District 3? If so, consider helping us fund the city council run-off election Voter Guide! Click here!