Continuing our dive into the details of Prop 205, I want to draw from the experience of others who have gone before us. Arizona has the benefit of learning from other states that have suffered the consequences of legalizing recreational marijuana.
First, let me reiterate: Prop 205 will do nothing to change the fact that medical marijuana is legal in Arizona. This measure is strictly about recreational use.
Last week we looked at the risks and harm to our children and youth.
The second reason Arizona should defeat Prop 205: Colorado's marijuana experiment is a failure.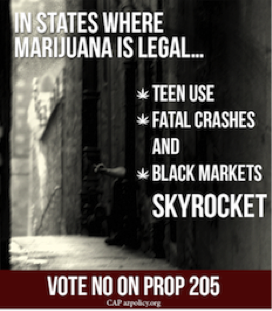 Listen to what this Colorado educator
has experienced since marijuana was legalized in his state.
In Colorado:
Teen marijuana use is 74% higher than the national average. Colorado is #1 in teen marijuana and illicit drug use. The legal age to use marijuana in CO is 21, the same age required in Arizona under Prop 205.
Newborns testing positive for marijuana are on the rise. In one hospital alone, half of newborn babies test positive for marijuana.
Marijuana-related fatal car crashes have increased 62% since legalization. They doubled in Washington State. In Colorado, marijuana-related DUI offenses doubled.
When legislators saw an increase in children ER visits due to accidental marijuana ingestion; they responded by banning marijuana-laced gummy bears. There have also been a number of cases of pets getting sick from accidentally eating drug-laced snacks. Note: Arizona's legislature would not be able to make the same changes to the law because ballot measures are voter protected in Arizona.
Colorado is the #1 state in the nation for marijuana use overall.
Marijuana-related emergency room visits by visitors to the state doubled in the first year and are up 49% overall.
Many schools have seen no money despite promises made during the campaign. Colorado's top marijuana official said tax revenue from legal marijuana is a "red herring … you're not going to pave your roads and pay your teachers with marijuana tax revenue."
Despite promises to the contrary, the black market in Colorado thrives. Colorado's attorney general says illegal dealers are "hiding in plain sight." Surrounding states have taken legal action against Colorado in an effort to stop the importation of marijuana into their states.
There are more pot shops than both McDonald's and Starbucks.
What You Can Do:
Share this email with your friends and family
Spread the word by talking to anyone within your circles about how Prop 205 threatens and harms the well-being and safety of children.
Register to vote before the October 10 deadline. If you're already registered, verify that your address and voter information are up-to-date and consider signing up for the Permanent Early Voter List to receive a ballot by mail at servicearizona.com.
Pray that Arizona voters will resoundingly reject Prop 205.
Watch each Friday for our Five Minutes for Families email pointing out another reason to Vote No on 205.