Almost 5,000 Arizonans signed CAP's petition that read:
Children rely on adults to keep them safe.
We have a right and responsibility to protect our children, and the government has the duty to protect the safety, privacy, and dignity of all students in public schools.
Now, the Obama administration is denying parents that right and tying the hands of school officials by threatening to withhold federal funding for public schools that do not open up girls' locker rooms, restrooms, and showers to boys.
This lawless attack on schools and its threat to economically harm the state of Arizona is the latest attempt to coerce conformity with the Obama administration's political agenda.
Sign this petition to encourage Governor Doug Ducey and all elected officials to join the actions of other Arizona leaders against the Obama administration's extreme overreach and stand up to protect the privacy and safety of Arizona's children. Also, thank Attorney General Mark Brnovich and Superintendent of Public Instruction Diane Douglas for taking necessary legal action.
Yesterday CAP's General Counsel, Josh Kredit and I delivered the petitions to Governor Doug Ducey, Attorney General Mark Brnovich, and Superintendent of Public Instruction Diane Douglas.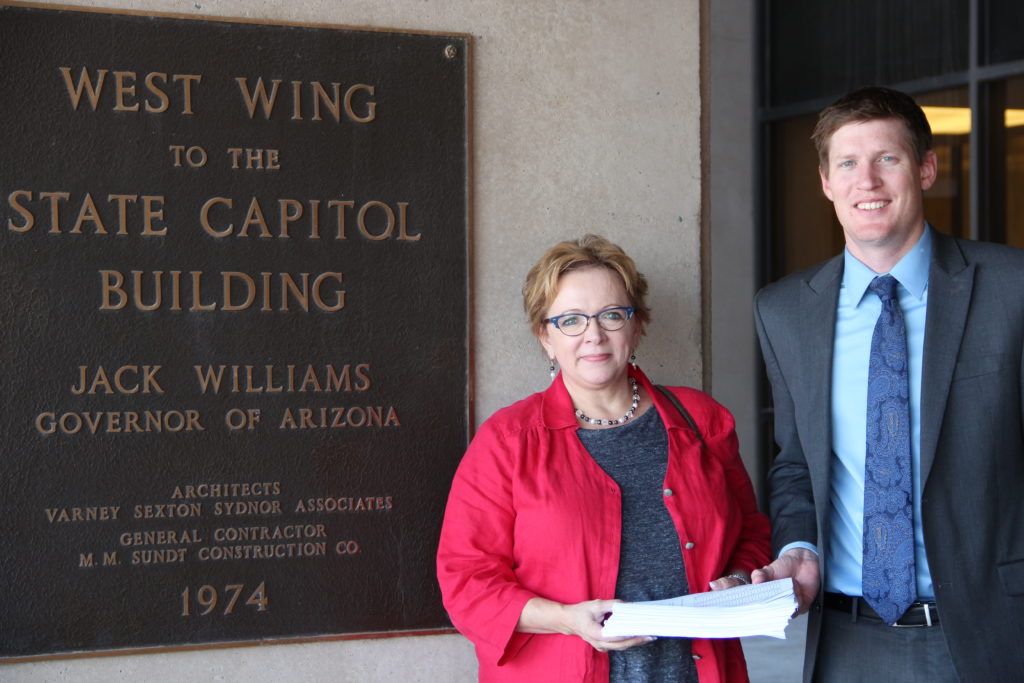 Thank you to all who signed and circulated petitions.
Since President Obama announced his Executive Order, a total of 24 states have filed suit against his mandate to open all public school restrooms, locker rooms, and showers to both sexes. Arizona was one of the first states to take legal action. Now, several more states have joined us in the bold stand for the safety of our children.
Thank you again for joining together with us at CAP to fight the good fight.
ICYMI – Latest News & Articles of Interest