April 5, 2017
Greetings from the Capitol! I have some very exciting news to share with you! On March 1, we welcomed a new Legislative Counsel, Michael Clark, to the Center for Arizona Policy (CAP) team. Michael is already making an impressive impact as our four CAP-supported bills make their way through the legislative process and onto Governor Ducey's desk. Praise God that SB 1367 and SB 1439 have already been signed!
At a time when CAP is assessing our role in our current cultural condition, Michael comes to us having just co-authored a textbook on Christian worldview that will be released this fall. One of our chief priorities ahead is to determine how we can help equip the church with tools to engage it with the truth of the gospel. God continually amazes me with his timing and his provision.
During this very important legislative session, I have been running the "ground game," wearing both the president and policy hats. As SB 1367 (giving babies surviving an abortion a chance at life) was more of a challenge than initially anticipated, I've been blessed to have Michael join our team. He brings considerable knowledge and skill to the CAP Policy team at a perfect time.
I am – yet again – reminded of God's faithfulness to the Center's work and to me personally. He has sent to us in Michael another "Young Gun" for this important work, and though it is an understatement, I am grateful.
He has a great story and impressive credentials, along with a lovely wife, Jenny, and four young, homeschooled children. I want you to get to know Michael Clark – his heart, his calling, and his vision – so we put some questions to him: interview style. I hope you'll enjoy it…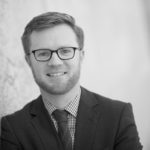 Michael, share why you pursued a position with CAP.
I pursued a position with CAP because I felt called by God to use my legal and theological training to promote the biblical values of life, marriage and family, and religious freedom in our state.
As followers of Christ, we are called to love our neighbors (Matthew 22:39) and to seek the peace and welfare of the place where we live (Jeremiah 29:7). By joining CAP, I knew that I would have the privilege of working with fellow believers seeking to obey Christ's call on their lives by promoting values that lead to human flourishing in our state.
Share with CAP supporters a little about your background and based on that, what you see as your strengths?
I was born and grew up in Chile as a "missionary kid." When my family returned to the United States, I attended public high school in Phoenix and then went on to the University of Arizona for my undergraduate degrees in Religious Studies and Spanish. These early experiences instilled in me the importance of being able to effectively engage with people of various faiths and worldviews.
After college, I served in various ministry positions, and received my Master of Divinity from Golden Gate Baptist Theological Seminary (now Gateway Seminary). I then had the privilege of working at and attending the Southern Baptist Theological Seminary, where I earned my Ph.D. in World Religions with a focus on Islam. My graduate studies not only refined my ability to research and write, but they also provided me with the opportunity for in-depth study of the biblical worldview and various other alternative worldviews.
After a few years of teaching world religions and cross-cultural ministry at Oklahoma Baptist University, God led me to law school. Last year, I received my J.D. from Sandra Day O'Connor College of Law at Arizona State University, and then clerked at the Arizona Supreme Court and the Arizona Court of Appeals. During my time in law school, I had the opportunity to work in the Office of the Governor and at the Maricopa County Attorney's Office, including a semester with MCAO's legislative liaison during a legislative session. My legal education and experience with Arizona's three branches of government have uniquely prepared me for my role as CAP's Legislative Counsel.
Of CAP's three issue areas – Life, Marriage and Family, and Religious Freedom – what are you most passionate about and why?
Because all of these are such important biblical issues, I really can't say which one I am the most passionate about. Human life deserves to be protected from conception to natural end because God has created us in his image and for his glory. Marriage and family issues are critical because God designed the family to be a picture of the gospel and the foundation of human society. However, in the coming years, religious freedom will probably be the most pressing issue of the three.
What do you see as the key focus to success in the future for CAP?
God has clearly blessed CAP with incredible success through the years. One key to our success in the future will be our ability to contextualize our message so that it resonates with each upcoming generation. Although the biblical values of life, marriage and family, and religious freedom do not change, the way we communicate these truths has to be contextualized for each generation.
Share a little about your family and tell us something about yourself personally.
I have been married to my wife, Jenny, for eleven years and we have four children, Scout (7), Brooks (5), Tayte (4), and Sonora (1). My wife and I met in seminary, and have served in ministry together ever since. We are members at Illuminate Community Church, and are passionate about discipleship and cross-cultural missions. We enjoy going on hikes as a family, and exploring the beauty and diversity of Arizona. I enjoy following Arizona basketball, listening to music on vinyl records, and playing golf.
…
It's Cathi again, and I hope you will join the rest of the CAP team and me as we welcome Michael as CAP's new Legislative Counsel! What a blessing for you and I to once again witness how God  uses this ministry to bring up these "Young Guns" to be effective servants in this critical work.
With each staff departure, God faithfully brings us someone uniquely suited for what is next on the horizon. We have seen this time and again at CAP. Most recently, the team and I have been in discussions with multiple local, state, and national leaders about the need for high quality discipleship training content from a Christian worldview. We see God's provision once again in sending us Michael.
I hope you recognize the role you have played in this ministry over the years – from our humble beginnings in 1995 until now, CAP ministry friends have generously provided the fuel necessary for this team to advocate for you and your family – so that all Arizona families can thrive! You have made this work possible.
In this ever-changing culture, our role together has remained constant. You see, you and I are securing the God-given rights for the generations to come: our children and grandchildren; so that they may enjoy these blessings of liberty in the years ahead. As God continues to bring these "Young Guns" like Michael Clark to serve him through the work of Center for Arizona Policy, you have our commitment that we will continue to be your voice at the Arizona Capitol, yes, but also as we expand our collective influence to city halls, school boards and beyond throughout this incredible state we call home!
Today, the team and I renew our commitment to you to stand, to speak, and to act for life, marriage and family, and religious freedom – so that all Arizonans can thrive!
In closing, will you commit to stand with CAP through a generous gift at a time when the needs are great? To be candid, we've had a slow start to meeting our budget this year so we would be most grateful for a special gift at this time. Your gift would be a tremendous encouragement to me as we continue our advocacy at the State Capitol. As we head into the lean summer months, will you help us stay the course in a strong financial footing?
The opponents to the issues you and I hold so dear are doing everything they can to reverse so much of the progress we've made together over the years: to restrict the God-given rights of the preborn and their mothers under the guise of "choice," to squelch the rights of conscience of professionals in the marketplace, and to limit the ability of parents to raise their children as God leads them. Now is not a time for us to grow weary or slow down.
Thank you for your partnership in this ministry. Together we are making a difference!
Gratefully,
Cathi Herrod, Esq.
President