Parking: Free parking for our event is located just east of the Capitol building, with one south entrance off Jefferson between 16th and 17th Avenue (Jefferson is a one-way street in this area, going east) and another parking lot entrance on the north on Adams (Adams is a one-way street going west). See map below for more details: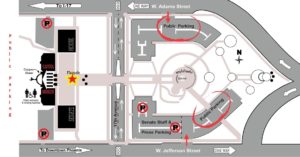 Pray for our Leaders at the Capitol!
Dress warm, wear comfortable shoes, and bring your Bible.
Meet at the Capitol Flagpole directly in front of the Capitol dome, between the House and Senate buildings.
Presented by